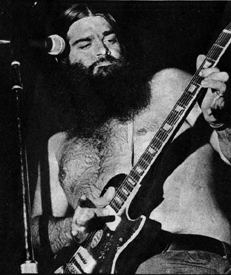 Bob "The Bear" Hite was a crucial part of the West Coast Blues revival of the late 1960's. Along with fellow musicologist Alan "Blind Owl" Wilson, he helped formed the first incarnation of the legendary Canned Heat as a Jug Band. Their perfomances at the 1967 Montery Pop Festival and the 1969 Woodstock Festival put them on the map as true Bluesmen seeking to revitalize an art form.
Hite toured nonstop with Canned Heat and performed as the group's barrel-housing lead singer until his death of a heart attack on April 5, 1981. He helped with the revitalization of John Lee Hooker, Sunnyland Slim, and Albert Collins' careers, and produced the now-legendary "Hooker 'N Heat" double-album for Liberty Records in 1971. Hite is most remembered by the flower-power generation for his 1970 gold single; Let's Work Together," and his Endless on-stage boogie jams. Producer/Drummer Fito de la Parra continues Canned Heat's legacy in the boogie's 43rd year!

- bobhite.net








1/07/2009: That was fun ;) the Discography has the cover scans back, and the new formatting is done!! For more Canned Heat information, please head to blindowl.net.

1/06/2009: We just received word from Quill Driver Books / Word Dancer Press that Bob Hite will featured in a new novel called Death In California by author David A. Kulczyk. Filed under Historical Nonfiction, the book is slated for release in 2009. Kulczyk is an award-winning author of short fiction, and a veteran Crime & Music Historian. He is also the author of California Justice; Shootouts, lynchings and Assassinations in the Golden State. We will get back with an actual release date as it is available.

12/17/2008: For those who have asked about Bob's record collection; We have a general idea of what happened, and will be posting the information at the end of the Biography Page here, which is also under construction. We've managed to keep these page going for this long, and we are going to finish the job we started. Thanks to all of Bob's supporters on Myspace, we appreciate you keeping the Bear's dream alive, and we appreciate you not forgetting to boogie. We will have a link to the Myspace page in the next day or so.

We don't plan on quitting anytime soon. Bob wouldn't have wanted that. Development has begun to rebuild the sidebar add the links to his Myspace page and a few extra things.

Besides, A friend of Bob's emailed us and said that he has Bob's famous Topanga Chili Recipe. Hopefully, he will be gracious enough to let us post it here for the fans.

Keep checking Back


DONT FORGET TO BOOGIE!